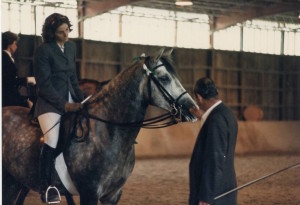 APAHA educational programs are designed to allow professional riders and trainers a period of time to begin the study of new skills. This is done under guidance of an experienced eye in order to make the transmission of learning easier for the student by garnering the feel of certain advanced techniques on trained horses. The program is designed to provide students with two years of support. In the first year, four teaching sessions are encouraged in order to create in students a cornerstone of reactions in aids and balance.
The focus during the second year is to encourage a natural progression with the student's own horse, to expand the training platform and to create an echo of those newly acquired skills. All of this develops a finer comprehension in both horse and rider of throughness in contact and immediacy of collection.
Students are invited to travel three times a year for 7-10 day training sessions with their horse. All educational aspects of the visits, as well as housing of horse and rider, are covered by APAHA sponsorship. The goal of this work with a rider's own horse is to instill in that horse enough of the transmitted knowledge so that riders can then transmit this knowledge to the next horses that they train and to the students they teach, thus expanding the art of horsemanship to a broader group of riders. The hope is to create a spark of experienced knowledge that can self-generate on into the future. Since there are no riding academies to train in under this umbrella of supervision in America, APAHA is working to create an atmosphere of research into sensations with the failsafe of having an experienced eye watch over riders as they experiment with the learning of new skills. The notion is very much like the role of a godparent helping watch over the psyche in the developmental phase of their godchild.
In addition to participation in the APAHA two-year program, there are numerous other opportunities to learn from APAHA events. You can check the Events page here on the APAHA website to keep track of upcoming opportunities.
Applying for APAHA Educational Programs:
The APAHA program is designed to provide professional teachers and trainers with two years of consistent educational opportunities and is open to professionals from any riding discipline. Those who enter the program are required to make the commitment to spend the two years focused on their education as trainers and riding teachers. The program is not designed to assist riders in competitive goals, such as showing, and it is expected that during the two-year training program, riders will set their show careers aside. This is because the objective of the APAHA program is to assist professional trainers and teachers in advancing their education so that they can transmit that knowledge to the horses they train and to the students they teach. Through this process, a broader group of equestrians are exposed to the art of horsemanship and it is passed along to the next generation. During the two years of the program, applicants are also expected to participate in APAHA educational workshops as demonstration riders.
Applicants must demonstrate that they lack the means to further their education without APAHA support. Riding teachers must demonstrate their professional standing by having riding students and must submit a DVD of a teaching session in which they also demonstrate and explain the principles they believe they are imparting. Professional trainers applying for the APAHA program must demonstrate that they have the ability to break in horses and have trained horses to a level of balance necessary to perform particular movements, such as the flying change. They should also submit footage of what they consider the best and worst riding and have a horse that is fit and young enough to attempt third-level requirements.
Applicants themselves must be physically fit, such as limber enough to mount a horse from the ground, be able to extend their hip flexor back to a degree behind their seat bones, and weigh less than 150 pounds, if a woman, or under 200 pounds, if a man. There can be no exceptions to the weight limit as the teaching horses in the APAHA program are older and those attempting high-school riding must respect the lift it takes for the horses.
Applicants must also submit a written explanation of the techniques they use and reasons for their use and demonstrate those techniques during the entrance examination week. Also required is an essay in which applicants must explain what they hope to achieve through the APAHA program.
For more information about the application process, contact Bettina Drummond at pruynstud@earthlink.net.