Kiko is a fabulous Lusitano stallion born in France but now living in the U.S. where he is working to teach American riders and trainers the true meaning of "riding without hands."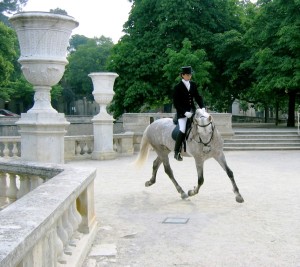 Kiko's Current Student: Lynndee Kemmet
Kiko is currently teaching Lynndee Kemmet.Lynndee grew up in Southern Colorado where she spent her childhood riding all around the prairie and the foothills of the Rockies. Most of her friends had horses. Hence, the convenience store and ice cream shop put up hitching posts so the kids could ride their horses to the stores for candy and ice cream. Lynndee was active in the 4-H Horse Club and competed in Western riding and gymkhanas. After college, she was introduced to Thoroughbreds while working as an exercise rider and groom for race horses at a Thoroughbred breeding and training facility in Massachusetts. It was during her time in the East that Lynndee was also introduced to the sports of show jumping and eventing and once introduced, she made the switch from Western riding.
She left the East and headed back West to finish graduate school and start her journalism career. She worked as a daily news reporter for Gannett in California while also launching her career as an equestrian sports journalist. Lynndee has been published in multiple leading equestrian publications including Dressage Today, Chronicle of the Horse, Dressage Daily, World Dressage News, Equine Journal and many more. It was also during her time in California that Lynndee began training in eventing, which introduced her to dressage. After several years in California, Lynndee returned to the East and settled in New York with the intention of continuing her training in eventing. But her equestrian education took a different turn when she interviewed Bettina Drummond for an article. That first encounter has resulted in a nearly two-decade friendship that served to introduce Lynndee to a whole new level of riding.
Lynndee gratefully acknowledges the tremendous generosity of Bettina in providing amazing opportunities over the years for her to advance her education as a rider and trainer. Through Bettina's support, Lynndee came to understand what lightness and balance really mean. Not only did Bettina provide Lynndee with a tremendous education as her riding teacher, but Bettina also assisted Lynndee in breaking in several of her young horses, which gave Lynndee a whole new understanding of the process of developing young horses. Over the years, Bettina also provided Lynndee with access to numerous horses that could enhance her education as a rider and trainer.
Most recently, Lynndee has been a lucky beneficiary of APAHA's educational programs through the loan of the fabulous Lusitano stallion Kiko, who is also the sire of two young colts in Lynndee's barn. Kiko has provided Lynndee not only with the opportunity to feel true lightness and balance, but he has also been an amazing teacher for understanding the use of seat, leg and hand.
"You can read every book on riding ever written, attend dozens of clinics, ride with all variety of teachers, but nothing can teach you the real use of the aids and meaning of lightness and balance than having access to an equine master such as Kiko," Lynndee said. "The mission of APAHA in providing riders with access to horses such as Kiko is really the only way riders can gain real understanding. What I learn from Kiko has completely changed how I approach training horses and how I approach teaching my students."
Kiko's current task is assisting Lynndee in learning the fine points of the use of the double bridle.