APAHA is dedicated to providing support to professional riders and trainers so that they can then ensure that the art of horsemanship survives for future generations. Horsemanship, as an art, is a cultural tradition that must be preserved and participants in APAHA programs are committed to its preservation. APAHA educational programs assist these professionals in their effort to maintain the art of horsemanship in their training of horses and teaching of riding students.
Current APAHA participants:
Lisa Hyslop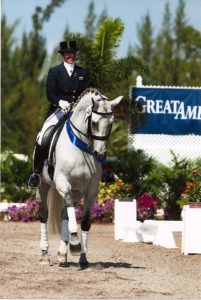 Lisa Hyslop has been riding since the age of five and entered her first show ring at the age of six. Over the course of her career she moved from a Saddleseat rider and trainer to a dressage trainer, competitor and USEF "S" level dressage judge. She has worked with a number of top trainers including Bettina Drummond, Kathy Connelly, Alex Konyot, Carol Lavell, Juan Matute, Tina Konyot and Linda Roberts.
Lisa, who is based at her Oak Hammock Farm in Florida, brings a unique blend of knowledge gained through a study of not only Saddleseat and dressage, but also jumping and Western riding. But dressage has been the main focus of her study for the past years. Her first introduction to Bettina Drummond was in 1995. At the time, Lisa had two Arabian geldings and one Westphalian. That initial meeting resulted in 20 years of training with Bettina. Lisa notes that her background as a Saddleseat rider, a competitive dressage rider, and all around, do whatever needs to be done, rider did little to prepare her for the discipline and precision required for training in lightness.
"I was instructed well as a young person. It served me well in this learning process, but it was mostly due to the focus and hard work Ms. Drummond applied to my riding and study. Ms. Drummond and her impeccable equine tutors were indispensable in helping me feel and understand the necessary balance and reactions from the horses in order to progress. I am forever grateful for the opportunity to learn from both her and her equine partners in my academic progress," Lisa said.
Robert Mendoza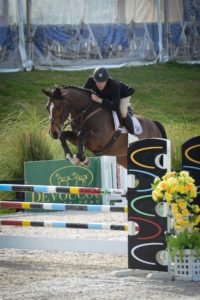 Robert began his riding career at the age of 13 when he became a working student for New England based young horse trainer, Joe Forest. Over the 10 years of working under the patient guidance of Joe, Robert developed the skills necessary to provide an excellent foundation in the starting and training of young horses in a variety of disciplines.  This is also where the passion to compete in the jumper ring was created. He was awarded the opportunity to help in the training of several young horses that continued on successfully with their amateur owners in the jumper divisions. During this time, he had the chance to begin traveling to the mecca of the sport in Wellington, Florida for several seasons to witness and compete against some of the best riders in the country. From here he was hooked.
He was fortunate to have the support and sponsorship of new owners for seven years where he managed, coached, and brought along a small string of horses from baby jumpers to the open divisions on the Jumper Circuit. Andiamo Pyon was a difficult 5-year-old that he patiently trained to the National Grand Prix level. BWP stallion, Vision, was acquired as a 4year-old and competed to the 1.40M level to complete his performance requirements for the BWP registry.  During this time, Robert also began to have the opportunity to ride and train with some of the best in the business. Aaron Vale has become an invaluable mentor by providing support and education beyond young horses.  To mention a few others are Norman Dello Joio, Michael Page, George Morris, and Debbie Stephens.
Robert also began to appreciate the application of basic dressage in the training of jumpers. Without the balance, straightness, and engagement a horse is unable to perform at the higher levels. He first sought the help of Ruth Hogan Poulson, who gave him a wonderful foundation in bringing his flatwork beyond the basics required for the training of young horses.
Several years ago, Robert was offered a position at Bannockburn Farm where some of the best Belgian Warmbloods are produced in this country. He jumped on the chance and now, after several years is, again, on the brink of having horses he developed enter the Grand Prix ring.  Here he was introduced to Linda Heiny, who introduced him to classical dressage. She encouraged him to attend a clinic with Bettina Drummond the master of French Classical Dressage. Bettina challenged him and pushed him to reach a new level of connection with his horse that he had yet to experience. He has attended several clinics offered by Bettina and every time walks away with a deeper understanding of his riding. Another person that has become instrumental to his riding has been Chris Ruysen. Chris is an International Level 3 trainer and rider. He has assisted Jos Krumpf (trainer of Rodrigo Pessoa), Prince Saoud Al Shalaan, Jan Tops, and Ulrich Kirchhoff. He has competed in numerous international level events and qualified young horses and riders for the world championships.
Robert's philosophy with his training and riding of horses revolves around the concept that the rider must have a consistent method while maintaining the flexibility to adapt to the individual horse. He balances the need to possess both insistence and patience when training young horses. He enjoys the challenge each horse presents on a daily basis. He stills hopes to find his way into the international show jumping ring with one of the horses he has trained!
Caroline Jordan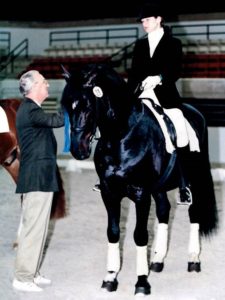 One of the first things one notices about Caroline Jordan is her all-encompassing love of and respect for horses. Her thoughtful and sympathetic methodologies ensure their well-being and correct training. She strives for beautiful, soft, and physically correct outlines in the horses she trains.
Originally from Newfoundland, Canada, Caroline came to Maryland to receive her continuing equestrian education at the esteemed Potomac Horse Center during its unique heyday period.
While at the PHC, Caroline was influenced by several important trainers. Her work with Cathy Hastings, the young horse trainer at November Hill was especially influential. While at the PHC, Caroline received her BHSAI and Horse Master Certifications and successfully completed a unique program "Re-Training Problem Horses. Her educational program at the PHC culminated with her successful completion of their Senior Instructor Course (Dressage focus), working closely with her PHC advisor Nancy Kellert.
Further studies led Caroline to Europe, first to England where Caroline trained with Ferdi Eilberg and then to Germany, with George Theoderescu, with whom Caroline not only trained but was his personal groom. With her European studies completed, Caroline came back to the USA to work with Pam Goodrich and continue her position at the PHC as teacher and trainer.
Other influences during this period include work with USA trainers, Grant Schneidman, Fred Weber (DUTCH), Major Lingren (SW), Reiner Klimke (GER), Nicole Uphoff (GER), Isabel Judet (FR), Conrad Schumacher (GER) and Linda Zang (USA). More recently, Caroline trained with Alex Chtcherba (RU). Caroline continues her ongoing training agendas via her collaboration with Bettina Drummond and Felicitas von Neumann-Cosel.
After her work at the PHC, Caroline set up business in a private Maryland stable where she oversaw the training of 6-8 horses.In 1990, she started her boarding business Good News Stable, located on the Good News Farm property in Boyds, Maryland.
Caroline successfully competed to Intemediare level, the Breeding Stallion Cottage Boy, an imported Holsteiner C Line Stallion. Cottage Boy was retired at the age of 20 still sound. Caroline stood Cottage Boy until his passing in 2009. She continues his legacy with her work with several of his offspring, now notably Cottage's Corazon. Look for them in the dressage ring this year.
Caroline continues working as Resident Trainer and Manager/Owner at Good News Stable, always making time for her boarder's questions and concerns. Welcoming the services of quality equestrian professionals, from top veterinarians, farriers and providers of several unique therapeutic modalities, to bringing international level clinicians to her facility, Caroline ensures that only the best care and training is provided for the horses and boarders under her watchful eye at Good News Stable.
Caroline lives with her wonderful husband James, and their two yellow labs, Chaucer and Kipling in Potomac, Maryland.
Lynndee Kemmet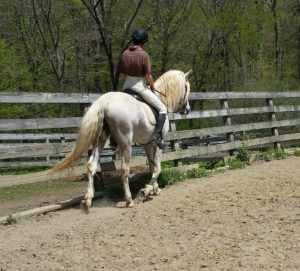 Lynndee Kemmet grew up in Southern Colorado where she spent her childhood riding all around the prairie and the foothills of the Rockies. Most of her friends had horses. Hence, the convenience store and ice cream shop put up hitching posts so the kids could ride their horses to the stores for candy and ice cream. Lynndee was active in the 4-H Horse Club and competed in Western riding and gymkhanas. After college, she was introduced to Thoroughbreds while working as an exercise rider and groom for race horses at a Thoroughbred breeding and training facility in Massachusetts. It was during her time in the East that Lynndee was also introduced to the sports of show jumping and eventing and once introduced, she made the switch from Western riding.
She left the East and headed back West to finish graduate school and start her journalism career. She worked as a daily news reporter for Gannett in California while also launching her career as an equestrian sports journalist. Lynndee has been published in multiple leading equestrian publications including Dressage Today, Chronicle of the Horse, Dressage Daily, World Dressage News, Equine Journal and many more. It was also during her time in California that Lynndee began training in eventing, which introduced her to dressage. After several years in California, she returned to the East and settled in New York with the intention of continuing her training in eventing. But her equestrian education took a different turn when she interviewed Bettina Drummond for an article. That first encounter has resulted in a nearly two-decade friendship that served to introduce Lynndee to a whole new level of riding.
Lynndee gratefully acknowledges the tremendous generosity of Bettina in providing amazing opportunities over the years for her to advance her education as a rider and trainer. Through Bettina's support, Lynndee came to understand what lightness and balance really mean. Not only did Bettina provide Lynndee with a tremendous education as her riding teacher, but Bettina also assisted Lynndee in breaking in several of her young horses, which gave Lynndee a whole new understanding of the process of developing young horses. Over the years, Bettina also provided Lynndee with access to numerous horses that could enhance her education as a rider and trainer.
Most recently, Lynndee has been a lucky beneficiary of APAHA's educational programs through the loan of the fabulous Lusitano stallion Kiko, who is also the sire of two young colts in Lynndee's barn. Kiko has provided Lynndee not only with the opportunity to feel true lightness and balance, but he has also been an amazing teacher for understanding the use of seat, leg and hand.
"You can read every book on riding ever written, attend dozens of clinics, ride with all variety of teachers, but nothing can teach you the real use of the aids and meaning of lightness and balance than having access to an equine master such as Kiko," Lynndee said. "The mission of APAHA in providing riders with access to horses such as Kiko is really the only way riders can gain real understanding. What I learn from Kiko has completely changed how I approach training horses and how I approach teaching my students."
Lynndee is based at her own Boschee Farm in New York, where she trains and teaches.
Amanda Timolat
Amanda Timolat is a rider, trainer and student of dressage based in Northwest Connecticut. In addition to her equestrian career she works in information studies as an academic librarian, and in her free time, she dances Argentine Tango. Amanda began riding and working with horses as a child and was involved in 4-H and Pony Club programs.
Her interest in dressage arose after watching a dressage demonstration by a local circus performer, which led her to take lessons with trainer and circus performer Anouk Schmitt. Soon thereafter, Amanda and her horse Nina moved to Florida to train with Anouk's mentor, Dorita Konyot.
From Dorita, Amanda gained a fundamental understanding of the training process and the foundation for her career as a rider and trainer. In the following years, Amanda furthered her education in training, horse care and management, and competition as a working student for Sue Blinks. After a decade of working independently and pursuing education through clinics and seminars, Amanda has found a mentor in Bettina Drummond, and has reengaged in the study of lightness and balance and the intersection of the academic and physical properties horse and rider.
Joanna Lo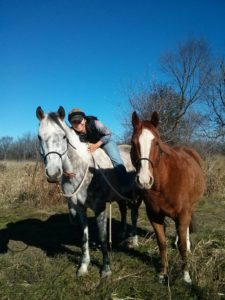 The love of horses is an affection and affliction that is not easy to describe, except to say that above all it is a passionate endeavor. I have ridden horses since my youth, mostly in the style of English equitation and hunt seat riding. In more recent years, I have had the opportunity to study with several excellent teachers including Martin Black, who worked closely with highly-regarded horsemen Tom Dorrance and Ray Hunt, and Wendy Murdoch, who studied with Linda Tellington-Jones and Sally Swift. Currently I have two horses of my own who graciously grant their cooperation in my pursuits through diverse streams of equestrianism.
I first met Bettina several years ago while studying with Martin Black at the Y6 ranch in Idaho. She arrived with her Quarter Horse stallion, Vousy, on an exploration of the hackamore tradition in the American West. As a casual bystander, I was struck by the grace and elegance of horse and rider as they maneuvered the arena. I had never seen harmony with such ease. In the most unassuming of places, it was an experience that vastly expanded my perceptions of the possibilities between horse and rider and has given me new ambitions to aspire towards.
The opportunity to study with Bettina under the APAHA program is an incredible gift and comes at a most fortuitous time in my riding career. The experience of riding educated horses under a sensitive eye is invaluable towards helping me develop a feel and understanding of timing and collection. I am then better equipped to aid my horses in their own balance and self-carriage. In the words of Moshe Feldenkrais, 'if you know what you do then you can do what you want'. By refining my skills as a rider I have greater tools and a more colorful palette from which to create and express equestrian art.
Brooke Johaningmeyer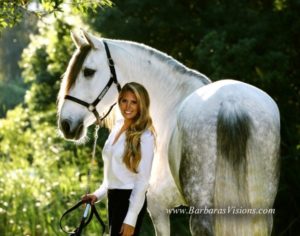 Growing up, my family had horses that we used for trail riding. As I got older I became more interested in dressage. I was drawn to the beauty and technicality of the sport. I was able to find a barn that offered lessons close to home but the education was limited. I had read about Bettina Drummond and knew I wanted to work with her. I purchased a green broke P.R.E. my last year of college and began taking lessons with one of Bettina's students. Eventually, I began riding in clinics with Bettina herself. When I finished college Bettina gave me the recommendation to apply as a working student for Lisa Hyslop. I spent a year and half as her working student and a winter season as an assistant trainer. I then worked in New York and was able to visit Bettina more frequently and learn on other horses.
Having access to trained horses provides an opportunity to feel your way through things. It's a humbling experience; it shows you where your weaknesses are and gives you insights that cannot be explained. Bettina also furthered my horse so I could then learn on him. It has been invaluable watching her ride, train, and coach others. I was looking for something not offered in the competition world. I was always more interested in dressage as an art form. This is what led me to Bettina and I'm excited to be part of the APAHA program. It has broadened my network, which has led to wonderful relationships and exciting job opportunities that have allowed me to put what I have learned to practice with my own clients.
Julie Arkison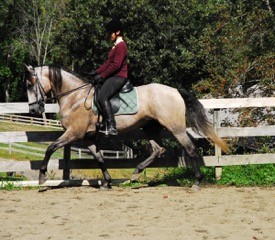 "Horses are a way of life." My grandfather instilled that in me as soon as I learned to walk. Being the only granddaughter to have been bitten by the horse bug, I was the proud recipient of my first horse at age eight. My Grandpa Joe introduced me to horses as working companions on the farm, and my later involvement with Pony Club became my initiation to the world of Dressage and jumping. I have currently been working with Keegan, a 12-year-old Andalusian cross that I have owned since he was two. Keegan came to me as an unstarted horse and we have progressed to work in the double bridle, thanks to the APAHA program and Bettina Drummond. Keegan is not the strongest of horses so his gift to me has been to learn how important it is to train a horse's back correctly.
Through the APAHA program, I am learning how to use training progressions to help him progress in his balance and strength and how to use my seat to instill and assist this balance. Thanks to Bettina and the equine school masters of the APAHA program, I have been able to understand the feel of a correctly moving, uphill horse. This has allowed me to translate that feel to Keegan and all of the horses I ride so that, to the best of their ability, they are able to move in better balance even if they are not capable of the uphill balance of a truly talented horse. I am grateful to Bettina and APAHA for giving me a clearer understanding of what dressage can feel like when the horse is using itself well and for giving me, as an instructor, a clearer path to passing this on to anyone who is interested in exploring it.
I graduated from the University of Michigan with a BA in Psychology and Art History and went to work for a local small animal vet. However, I soon returned to school to become a Therapeutic Riding Instructor for the disabled because of personal experience with the benefits of this therapy. Between 1989 and 2001, I became the program director, head instructor, volunteer coordinator, fundraiser, and barn manager for Therapeutic Riding of Washtenaw County. While developing this program, I explored a long-time dream of riding dressage and combining that knowledge with the Vaquero tradition of the working stock horse. By keeping a foot in both worlds, I enjoy creating unique opportunities to expand the connection between horses and their humans. I have been teaching students of all ages at Synchrony Farm
I also explored the Vaquero style of horsemanship with students of the late Tom and Bill Dorrance. Buck Brannaman, Bryan Neubert and Mike Beck have been wonderful mentors over the years. In dressage, I have been an avid student of Bettina Drummond. Studying with her has given me clarity to my dressage education and now provides a cornerstone for my work in exploring the world of balance in all disciplines. I have also enjoyed taking clinics from Rudi Rosteck and Herbert Seiberl of the Spanish Riding School and feeling the addition of the European perspective in my dressage work has been invaluable.
I have shown dressage through Fourth Level on horses I have trained and received my USDF Bronze Medal. To demonstrate my own expression of the worlds I study, I like to do freestyles to the theme of "Ghostbusters" at local dressage shows with my Dutch cross mare, Magic Moment! I also enjoyed taking Keegan to a recent clinic with Marius Schreiner from the Spanish Riding School where we were able to successfully work on uphill balance in the double bridle. Riding Keegan well in this clinic was realization of a long-time dream of understanding the fundamentals of dressage more clearly and a direct result of the APAHA program.
Alicia Landman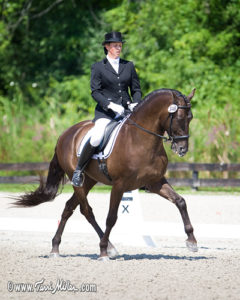 Alicia Landman considers herself a "perpetual student of the horse" who is always eager to learn more. Based in Nashville, Tennessee, she is a USDF Silver medalist and has successfully competed in dressage through Prix St. Georges but her education includes much more than dressage. She has also studied with such leading western trainers as Buck Brannaman and Ray Hunt, both of whom educated her in their methods of starting young horses.
In 2001 Alicia traveled to Brannaman's home in Sheridan, Wyoming to spend 10 days training with him. During this time, she received intense training from Buck on Colt starting, Ranch roping and Horsemanship and began a long-time commitment to studying the methods of the Vaquero tradition. Brannaman introduced Alicia to Ray Hunt in 2004.  Alicia was able to start two colts under the watchful eye of Ray Hunt and ride her Grey Trakehner Gelding, Donaubeck in two Horsemanship classes.  Donaubeck was started by Alicia and during her time with him she would work on her ranch roping one weekend and take him to a USDF recognized Dressage show the next weekend consistently scoring in the 70s.  
At the same time that she was studying western horsemanship, Alicia was also expanding her knowledge of dressage training. Alicia met Maryal Barnett FEI "C" Dressage Judge, and USEF "S" Dressage Judge in 1998.  With Maryal's guidance, Alicia earned her United States Dressage Federation Silver Medal in 2004. In 2006, Alicia met Bettina Drummond and has continued to travel to Connecticut to learn her methods several times a year. Bettina has helped Alicia see a method of training that truly studies the balance of each individual horse and has allowed Alicia to feel the high school movements of her highly trained Lusitano stallions, an experience that allows Alicia to recreate what she feels with her clients' horses and her own.