---
The APAHA Fundraiser afternoon session featured a series of musical vignettes by APAHA riders. Bettina Drummond and Macho led the afternoon session.
Bettina Drummond and Macho (Photo by Susan Goldfischer):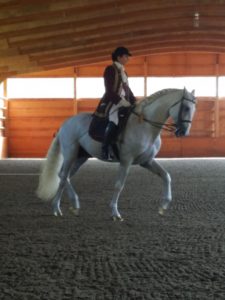 See a video of Bettina and Macho by clicking here.
First let me say that Sunday's event was the most wonderful event I have ever attended, from start to finish. The horses, the music, the riders and the information you shared with us throughout made the day magical. The beauty of it all, along with the opportunity to see what can happen when horsemanship is about partnership, learning, training for the purpose always of enhancing the partnership, when done for sake of those things, it touches the soul. And I know I am not alone in feeling that way, as everyone I spoke to shared those thoughts.  — Susan Goldfischer
---
Allison Kavey with Cacharel and Utopia
"Thank you Bettina for this amazing day! The art you brought into being in that little arena was astonishing. Thank you for bringing all of us into a place where better things can emerge. Cach, Utopia, and I are very grateful to be a part of your 'company'. Merci, Maitre!"  Allison
See the video of Allison and Cacharel by clicking here.
See the video of Allison and Utopia by clicking here.
---
Lois New and Quilate:
(Lois New is a part of APAHA's co-op of breeders who graciously donate the use of their horses for the education of APAHA riders. APAHA says a special "thank you" for such generosity in supporting the mission of APAHA.)
"Once again, Bettina has masterfully engaged her students and equine partners in an inspiring and creative artistic venture. As part of the breeding co-op, it was a treat to show our 21-year-old pure Lusitano stallion Quilate to both classical and popular music. I was amazed at how he moved with the music."     Lois
---
Elizabeth David and Amado
"What an amazing event I was privileged to participate in! To have a master give you the opportunity for self expression in our art form of horsemanship is truley unique. Through Bettina's careful guidance, Amado (a new mount for me) and I were finding out how riding to music brings a flow to our conversation and how the music can educate my feel. The best part was meeting and working with all the other wonderful people and horses. Everyone brought something inspiring to the performance on stage and off!"    Elizabeth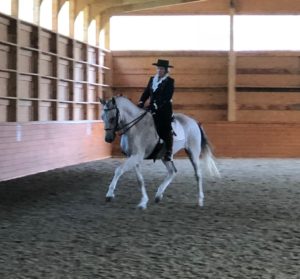 ---
Amanda Timolat and Legolas
"It is such a privilege to be part of this group of athletes and artists. What has struck me is that through the preparation and performance at this workshop, I can now see that my shy Legolas has arrived at a place where he is comfortable and confident in himself and his work."                 Amanda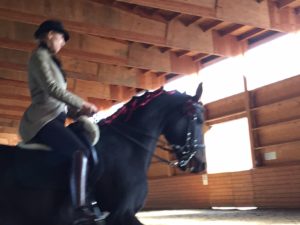 ---
Brooke Johaningmeyer and Boleo
"I was happy to be apart of Sunday's event.  My horse had been out of work for over a month due to a mass in his nasal passageway.  I got the go ahead to start riding again about a week before the event.  I picked out some music at the suggestion of Bettina and she made up a routine for us the night before.  It was our first time riding to music but we just went out and had fun with it.  It was a great day, all the rides were amazing and Bettina was inspiring as always."     Brooke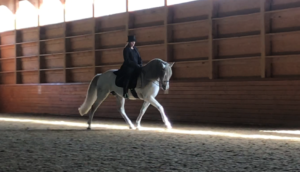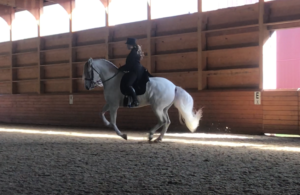 See the video of Brooke and Boleo by clicking here.