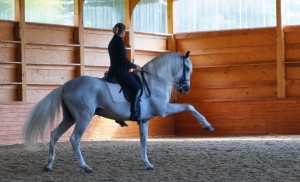 APAHA depends upon donations to support the riders and trainers who benefit from our programs. APAHA does not charge individuals who participate in our educational programs and, in many cases, APAHA even covers the costs of housing for riders and trainers who travel from a distance.
The most important and unique aspect of APAHA's educational program is the horses. In developing its educational programs, APAHA seeks to provide riders and trainers with the rare opportunity to work with horses that are not only highly trained but also have the sensitivity and reactions that allows APAHA students to feel levels of balance and lightness that can take them into a whole new world of understanding. This is what makes APAHA unique — providing students with access to horses that are master teachers.
Support from donors like you will make it possible for APAHA to maintain these horses that serve as teachers for the next generation of American riders and trainers. You can learn more about APAHA's equine teachers by visiting the APAHA Horses page on this website.
To apply to participate in APAHA educational programs, contact Bettina Drummond at [email protected].
Please donate today. APAHA thanks you for your support.
[paypal_donation_button]