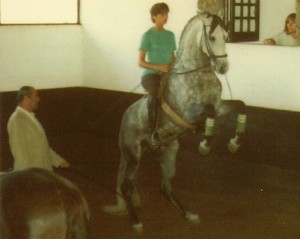 Washington, Conn. – APAHA founder Bettina Drummond, a dressage trainer and rider formed in the French riding tradition, is the sole American invited to a two-day colloquia focused on promoting understanding of the French system of riding. The colloquia is being sponsored by the French Ministry of Culture and hosted by the French Institute of Horses and Horse Riding (IFCE) and the French National School of Equitation at Saumur. The event is being held Oct. 15-16 in Saumur, France and brings together many of the current masters of the French tradition for two days of discussions and demonstrations aimed at deepening knowledge and understanding of this equestrian cultural tradition.
Four years ago, the United Nations Educational, Scientific and Cultural Organization (UNESCO) placed the French riding tradition on the representative list of the Intangible Cultural Heritage of Humanity. That designation was a recognition by UNESCO that the French riding tradition is a cultural heritage that must be supported and preserved. UNESCO defines this system of riding as one that "emphasizes harmonious relations between humans and horses. The fundamental horse-training principles and processes are guided by non-violence and lack of constraint, blending human demands with respect for the horse's body and mood."
The effort to preserve this riding tradition involves maintaining the existence of the French National School of Equitation (École Nationale d'Équitation) at Saumur as a place for educating the next generation, but also by exposing more people to this riding tradition through public demonstrations by France's Cadre Noir and by expanding the network of trainers and riders who follow the French riding tradition. Organizers in France hope that participants in the October colloquia will deepen their own understanding of the French system of riding through interaction with one another and will then take that knowledge home with them to share it with others.
Drummond's invitation to participate resulted from recognition by the French that she is one of the most prominent members of the French system of riding based in America. Bernard Maurel, a former international dressage judge who helped organize the event, notes that Drummond's involvement is critical for expanding knowledge and understanding of the French tradition of riding in America. Exposing more Americans to this system of riding will help to preserve this cultural heritage. "We are very happy to have Bettina as one of the instructors for this meeting of the French equestrian tradition," Maurel said.
Drummond has already been working for years to expose more Americans to the ideals of the French riding tradition – true balance and lightness in partnership with the horse. Although an American, Drummond was raised in Europe where she studied under the Portuguese riding master Nuno Oliveira, who the French listed in the UNESCO nomination as one of the great masters of the French riding tradition. Drummond's mother, the late Phyllis Field, sent her to study with Oliveira when she was only seven years old. It was Field's desire that her daughter would eventually return to America and expose American riders to the French tradition of riding. Hence, Drummond's formation as a rider and trainer included not only the 17 years spent training with Oliveira, but also studies with several riding masters at France's elite National School of Equitation in Saumur. She also served as Oliveira's demonstration rider during times that he was teaching at Saumur.
"Thanks to the intervention of Gen. Pierre Durand, who served as Ecuyer en Chef and Commandant of the French National Equestrian School in Saumur, I was able to glean further skills necessary to enhance my career as a performance rider. To be able to work with such experts in the field, such as Adjutant Chef Maitre de Manege Jean-Marie Donard to perfect my airs above the ground, also with Maitre Ecuyer Daniel Lechevallier on long line and young sport horse balance was an amazing privilege for the young rider that I was," Drummond said.
The October colloquia is part of the effort of the French to fulfill a mandate of the UNESCO designation that they take action to preserve their system of riding for future generations. This requires enhancing the teaching skills of those who have an understanding of the French system. Maurel said that Drummond was invited because she is also known for her ability to teach the methods and techniques of the French system.
Part of Drummond's success in doing this is that she also has a stable of highly-trained horses, mostly stallions, that are part of her teaching program. This makes it possible for riders and trainers who work with her to "feel" the effects of particular aids and techniques. It helps riders know when they've done something correct and when they are wrong. That sort of education is invaluable, said Brooke Johaningmeyer, a young rider from Indiana who is working with Drummond this summer. "I think people can explain to you how something feels, but when you can feel it, then you really understand it. You don't get the opportunity to feel it, however, unless you have the opportunity to learn on a trained horse. Having the horse teach you is better than having someone explain to you how it feels to them," she said.
Johaningmeyer is one of several young riders participating in a program supported by the new Association for the Promotion of the Art of Horsemanship in America (APAHA), of which Drummond is the founder. The program provides American riders and trainers with opportunities to advance their riding education on trained horses. Some of the young riders are even loaned trained horses as teachers as a way of helping them become a more educated future generation of American riders and trainers.
The French system of riding that formed Drummond is often viewed as a more artistic approach to riding. Although formed in Europe, Drummond chose to live in America because she felt the U.S. would allow her the freedom to develop her own expression as a performance rider. The style she developed is one known for the flexibility of the horses and long, fluid lines with a brilliant piaffe. Drummond strived to retain the classical form of her teacher – Oliveira – but added a personal style considered by some to be like a jazz musician riffing off of a classical air.
While some feel that artistic riding and sport riding are two separate worlds, many masters in the French riding tradition have been successful competitors at the international level. Drummond believes there should be a link between art and sport riding. Competitive riding has often been criticized for pressuring horses and taking the life out of them. In contrast, artistic riders have skills that bring out the life in a horse. Drummond said her focus in working with America's future generation of riders is to provide them with the skills to bring out the best in a horse but also with the knowledge, understanding and feel necessary to avoid destroying the spirit of the horse in the process.
Drummond's approach does work, said Amanda Timolat, of Falls Village, Conn. She said the experience of riding trained horses in Drummond's program provided her with a "profound leap forward in my comprehension of the art of dressage. My riding has become more tactful, where I use more subtle aids to achieve greater lightness and harmony as a result of having a physical memory of how my horse should respond."
Julie Arkison, a rider from Saline, Michigan, has disabilities that make it difficult for her to keep body straight. The crookedness in her own body created crookedness in her own horses with the result that she never really knew what straightness and true balance on horseback felt like. That changed when she participated in Drummond's program for riders and sat on horses that were straight and in balance. "Riding the trained horses helped me understand what straightness and lightness felt like and what it really meant. I finally understood what balance really felt like and that helped me understand how to find that point of balance in the horse," Arkison said. "I had every book ever written on straightness and crookedness but none of that was as important as being able to feel it."
Preserving the ideals of the French riding tradition isn't just about educating the next generation of riders. It is also about reaching out to more current trainers and riding teachers in order to share ideas. Drummond has traveled widely across America to spend time with trainers in other disciplines and to ride their horses in order to understand how their training techniques impact horses. In return, many of those trainers have traveled to Connecticut to ride Drummond's trained horses for the same reason. Bob Ciri, a trainer and instructor from Maryland, is one them.
Ciri said riding Drummond's stallions let him feel things he had never before felt in a horse. "I could feel what the movement should be with the grace and power the horse delivers as it should be done.  It gave me the opportunity to feel the 'beauty' of the movement.  It elevated my riding to a whole new level that one rarely gets to experience," he said. Ciri said that advancement in his own education has now made him a better riding teacher, which is exactly what Drummond hopes other teachers gain from her horses. "It made me a much improved instructor for my students. I am better able to teach them how to talk and listen to their horses," he said.
Drummond said that she is trying to give to American riders and trainers what French masters gave to her – opportunities to learn what concepts like balance and lightness and partnership with the horse really mean. She said the invitation to the colloquia in France brings her full circle – French masters from Saumur helped form her as a young rider and now she is returning as a recognized teacher of their tradition.
"I am deeply cognizant of this recognition of my efforts as a teacher. To be given this opportunity to return to the source and the repository of the art that is Haute École is, at the end of my career, an unlooked for but great honor. But most of all, gifting my time and presence as a teacher to the Association of the Cadre Noir allows me an even greater joy – repayment of a debt in learning, which I do with immense gratitude," Drummond said. "My teaching career owes also a big debt to the president of the Association of the Cadre Noir, M. Bernard Maurel, for having taken time out from his busy schedule, at the apex of his career as Olympic-level judge, in order to coach me through the performance pitfalls of the CDI level. It was very generous of him. It is thanks to these exchanges that I have proven able to assist fellow American riders to tackle the CDI effects successfully and jump-started my career as a coach."