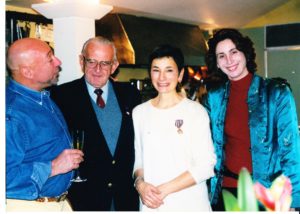 Horseman John Craven came into my life through Donna Coughlin and her horse Oberon aka "Obi." Donna had sought out my help with Obi and that connected me to John, who, as you'll note in his bio below, had a deep respect for Nuno Oliveira. I enjoyed the times I spent with John sharing and comparing riding techniques and styles of teaching. He was part of a spontaneous network and one of the many threads that inspired me to weave them all together into the idea that has become APAHA.
John is now in hospice with lung cancer. In the bio below, which is in his own words, he tells us of his life and asks us to rejoice in it with him. He is much loved and his friendship is much appreciated.
Bettina Drummond 
Now…onto my mini biography (by John Craven):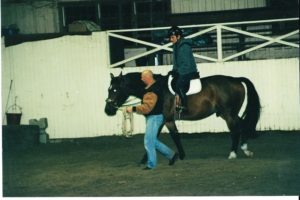 I have led an idyllic life. I grew up in a small, bucolic town in Connecticut where we ran free on bicycles and horses. I don't think I have not worked since I was eleven. My favourite jobs were NOT mowing lawns or working on a mink farm. At age fourteen however, I was allowed to indulge in my life long obsession with horses and fell in love with work.  I learned to ride in a wonderful barn in Connecticut with lovely horses and had ideal teenage years. From there, life served me a series of wonderful, wonderful opportunities that I was somehow always able to take advantage of. One year abroad in Spain turned to three-a life style that no student should ever have, too perfect. I travelled with friends and worked for a travel agency. My territory was all of Spain, Southern France, Portugal and Morocco, with side trips to Paris, Vienna and fox hunting in Ireland – trips of a lifetime. When I finished school with a Batchelors in International Business, I went on a road trip. I bought a horse, not much of one, but a good boy. His name was Geist and with my Spanish galgo, Lambda (a greyhound) we took off for three weeks, starting from Salamanca and ending in Rhonda, my two favourite cities. The galgo took care of herself and we ate beans, ham, bread and little goodies on the way. We stayed with shepherds, cattle herders and were alone under the stars. Geist I sold for a few hundred pesetas, Lambda and I came home to Salamanca by train. I forgot to mention that while living in Spain, I was truly honoured to have met and have been nurtured by Maestro Nuno Oliveira – one of the consummate horsemen the world has known, first allowing me just to show up, then allowing me to watch and eventually to ride, a privilege only a handful of us have known. Nuno, your largesse, to a teenager from Connecticut was an internal gift.
Home from Spain after finishing school and a brief stint in the Navy, where a bad shoulder kept me out of harm's way, I did three stints with horse enterprises. First was a raging failure. Any business sense I had learned, I'd forgotten. The second was The Royal Lipizzaner Stallion Show. We visited all 48 Lower States and most of the Canadian provinces. After 50,000 miles, time for a change, but it was fun to see North America. From there, I went to Southlands Farm in New York and worked with the wonderful Deborah Dows and her cast of loyal friends; leading that cast were Susie Williams and Veronique Firkusney. Deborah was one of the first women to study at The Spanish Riding School, a serious accolade. While at Southlands, Deborah gave me every opportunity to grow as a horseman, better than I ever thought I could become. We also became the closest of companions. One of the crowning glories at Southlands was being allowed to go to England to buy horses for resale in the United States. I think I must have brought in close to sixty horses, so yet again, more travel and a brilliant experience.
In 1989, I hung up my tack and fell in love with the wonderful Kim. We first met at the beach on Fire Island, New York. He was walking his two cocker spaniels and I chased him until he caught me! We went back to his house, talked for hours and exchanged numbers and addresses. A few days later, I wrote to him on very nice custom stationery. Coincidentally, Kim called me the same day. For the next year or more, we maintained a two-day here, three-day there romance in Rhinebeck and NYC. Dogs travelled with! Fire Island became our summer haven where we as partners could walk hand-in-hand and even kiss in the middle of town, as natural as it always should have been. Since then, and for 28 years, we have rarely been apart. We've travelled, shared music, good food, love and endless excitement. We've danced from 3 a.m. until late in the afternoon, caffeine or something may have been involved.
Dear friends, I have one favor to ask. Please hold Kim as firmly in your hearts as  you've always held me. Half of a whole is a heavy burden. Thank you.
Final chapters:
After leaving Southlands, which has remained close to my heart for 40 years, there were three final companies I worked with; Ulster International, Millers Harness Company and Intrepid International –all horse equipment related, which sent me back to Europe. Millers took me to Central America, Mexico, all of South America and the Caribbean-what a tragedy! And with Intrepid, final swings through Europe and South America. So, as you can see, world travel was not short-changed on me. I have squeezed four score years and 10 into three score years and 7, bursting out at the seams with fantastic times and memories. Since I need nothing else in this mortal coil, certainly not flowers or memorials, if anyone is so inclined to give a small donation to The Southlands Foundation, information is available.
And now, a final little known fact. My mother of French and Russian descent, was born and raised in the Philippine Islands. There is a native and family expression, just a single word, "Nay," (phonetically pronounced "nigh-ee") which means, I will go first, you come later.
And now it's time for a party, tell stories, say prayers, anything that comes to mind that reminds you of me and for heaven's sake… tell jokes!
John Craven